EDITOR's NOTE
_________________
HOMA HEALINGS
_________________
HOMA FARMING
_________________
ECO NEWS
_________________
EVENTS
_________________
MESSAGES FROM SHREE VASANT
_________________
FROM ORION TRANSMISSIONS
_________________



THE POWER OF LOVE (2)
Some say, "All we need is love."
Yes and no. No, because sometimes certain basic material needs and responsibilities are placed above the emotional needs. An example is when a couple separates because his or her job is in another city. And yes, when we act with love, the heart is happy and we are happy. That is what most people really want. Now let us recall some known expressions and analogies, and then interconnect them.
1) Love God above all things. (First Commandment)
2) Love your neighbor as yourself. (Matthew 22:39)
3) Love God with all the strength of your soul, mind and heart. (Matthew 22:37)
4) Seek first the kingdom of God and His righteousness that everything else falls into place. (Matthew 6:33)
5) The Kingdom of God is within you. (Luke 17:20 / 21)
Deductions: if God (G) is in our heart (H), then G = H
Fire of Love (FL) is in our heart, then FA = H
Then G = FA
God is the Fire of Love
However, how to go inside? Meditating.
How to fulfill our duties and operate /respond with love? By practicing the Fivefold Path (Yagnya, Daan, Tapa, Karma and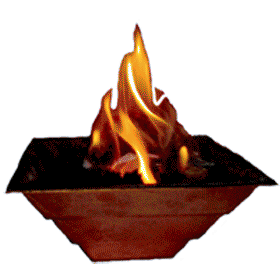 Agnihotra opens us to Love.
Swadhyaya).
How to express unconditional love?
Through Selfless Service.
If we love our work, the work gives us happiness.
If we work on what gives us joy, work is a Blessing.
If we thank God for his/her gifts, God showers us with Grace.
How to give thanks to God?
There may be as many ways as there are human beings and more and all are valid.
Where and how to begin to give thanks?
Suggestions:
Thank God for the gift of life.
Nevertheless, how to realize this gift?
1) BREATH AWARENESS.
You may sit in a quiet place, close your eyes, place your hands together touching the chest with the thumbs. Inhale and feel the air passing through the nose, throat, expanding the pelvis, abdomen and chest. Retain the air briefly. Then exhale and feel the air going through the nostrils. Empty the head, neck, thorax, abdomen and pelvis.