EDITOR's NOTE
_________________
HOMA HEALINGS
_________________
HOMA FARMING
_________________
ECO NEWS
_________________
EVENTS
_________________
LEARNING ABOUT
AYURVEDA WITH
DR. IRMA GARCIA
_________________
MESSAGES FROM SHREE VASANT
_________________
FROM ORION TRANSMISSIONS
_________________
THE ROAD TO HAPPINESS (1)
Continuing the series of investigations in our self-study, Swadhyaya, we ask: What is the path to happiness?
First of all, we realize that we are not talking about a physical path, or a map to get to a specific place, but the steps to follow to achieve a certain mental (or psychological) state.
As we grow up, we become aware or mature and the veils of ignorance drop and the goals and objectives, which provide us some "happiness", change. Usually, when we are babies, closeness to the mother is our joy. When we are children, we want to be with other kids and play with toys. As teenagers, we looked for other teens and like to study and to have fun (do sports, dance, etc.). As young adults, we usually like to work and get money, power, etc. Adults also want sex, family, fame, and properties (house, car, land, etc.)
Of course, there are exceptions and this sequence of events can change. We also have to mention the existence of other activities such as: drug use, alcohol, snuff, gluttony (eating a lot), gambling, video games, internet, etc., which can provide other pleasures. Yes, yes, yes, the vast majority of people prefer to walk through the valleys or horizontal streets, which do not require much effort on the physical, emotional or mental levels.
There are a few that stand out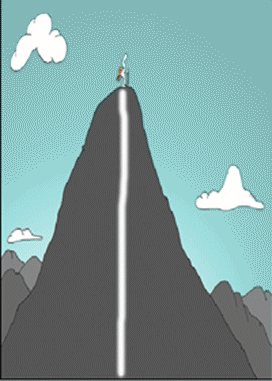 ROADS TO HAPPINESS
THE FIVEFOLD PATH -
A ROCKET TO HEAVEN
from the rest and look forward to climb higher positions in the physical, emotional, and mental levels. So some seek challenges (social, economic, cultural, intellectual, scientific, spiritual, etc.) to overcome them. .
Very few realize that most of these achievements provide short-term happiness with a relative effect, depending on the psycho-physiological state of the experimenter.
And very, very few want to transcend the desires and detached from the fruits of their actions.

Sometimes it seems that life is a journey and the path presents different routes, landscapes, people and situations as you go. Sometimes we walk in: the city, country, jungle, forest, desert, mountain, moor, etc. Sometimes we are most of the time in one of these areas. Also, we may change our habitat constantly.