EDITOR's NOTE
_________________
HOMA HEALINGS
_________________
HOMA FARMING
_________________
ECO NEWS
_________________
EVENTS
_________________
LEARNING ABOUT
AYURVEDA WITH
DR. IRMA GARCIA
_________________
MESSAGES FROM SHREE VASANT
_________________
FROM ORION TRANSMISSIONS
_________________



THE VISION OF THE DIVINE
Let us do more Swadhyaaya (self-study). How does the Divine look like? Is He (She) an old man (woman?) Standing on the clouds? Does He (She) has long hair and a long white beard? Is He (She) dressed in white or is He (She) naked? Is He (She) as described in the Bible, Koran, Bhagavad Gita or any other Holy Book?
If we were created in the image and likeness of God (Father/Mother) (Bible-Gén. 1:27), It might be something different from our physical form for every individual has a specific form and there is a great biodiversity. If the Divine is in all creatures, It has numberless different bodies. If the Divine is in all creation (animate and inanimate), It might be at the core of everything. If it is so, it might be beyond the reach of the senses and the intellect, but It might still be close to our reach, very close. Even though "God formed man from the dust of the earth…." (Genesis 2:7) Man / Woman is more than matter; he/she is Spirit. "GOD IS SPIRIT!" (John 4:24). Besides, Human Beings possess a mind and heart that are not automatically controlled by instinct.
We can think and reason independently, make plans and decisions,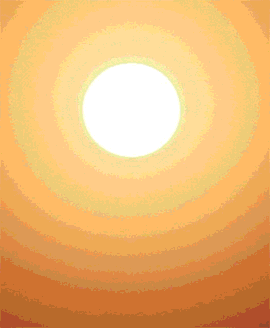 WE ARE FIRE, WE ARE LIGHT.
build strong desires and motivations and exercise free will. We are creative (?)
There is a story that talks about how this Divine spark was hidden so that man could never find it, for it is hidden within himself where he usually does not look for.
According to the narrative accounts, the perception of the Divine can be direct or indirect. Both could be beyond words, however, the first one tends to be very strong or so-called unbearable for the regular human being in the initial stages. (Bhagavad Gita 11.17). For some philosophers, the indirect divine experience is more accessible, manageable and pleasant from the beginning. During the direct contact with the Divine, some mystics experience total loss of the Self. Sometimes their experience is accompanied with pain and fainting fits, and sometimes it is Bliss.