EDITOR's NOTE
_________________
HOMA HEALING
_________________
HOMA FARMING
_________________
ECO NEWS
__________________
EVENTS
__________________
LEARNING ABOUT
AYURVEDA WITH
DR. IRMA GARCIA
_________________
MESSAGES FROM SHREE VASANT
_________________
FROM ORION TRANSMISSIONS
_________________



THE JOURNEY OF THE SOUL (1)
Yes, let's do more Swadhyaya (Self-study). In previous pages, we talked about the constitution of the human being and the process of life and death. Let us continue using the Vedas as the main reference. It is the ancient most source of knowledge and as you do some research, you will find out that the greatest cultures and civilizations have borrowed or derived some data and information from the Vedas. Here, we are simply expressing simple observations which you can subject to a deeper study. Recapitulating, man is a soul with 3 main bodies: physical, astral, and causal.
The soul is a pilgrim traveling through different universes where it is accumulating experiences until it does not need them any more. From the Absolute (God, Allah, Jehovah, Great Architect, Whole, etc.) a portion (man) differentiates or individualizes itself. This (the soul) is encased (encaged) in a casual body. Then this goes into an astral body and this goes into a physical body.
Each body moves in the corresponding universe (dimension). They are the physical, astral and causal universes. These bodies and universes interrelate. The soul (SELF) is glued to these bodies by the binding force of the "desires". They will vary according to the nature or fixations of the mind. We are locked into the physical world when we crave for gross sensations (visual, auditory, smell, taste, touch, etc.).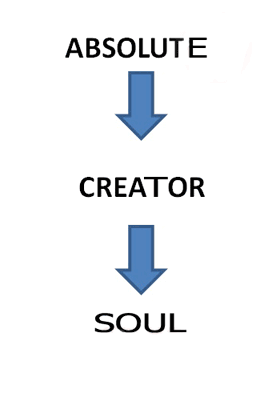 We could be trapped in the astral body when we look for special subtle experiences. We are contained in a causal body as long as we are caught in the mental processes or attracted to the world of ideas.
We are free when we are "totally desireless", when you realize you are "full" and you "need nothing". You realize you are "one with the source" and you always have been. Only your ignorance, blindness and darkness kept you separated.
However, this Divine Self-Realization is not an intellectual one. It is an Experiential One, Being Love. It is beyond words and thoughts. The Fivefold Path can bring us closer to it.
Sat Chit Ananda
Truth Consciousness Bliss
OM TAT SAT
Note: in the next editorial, we will look more into the world of gross sensations. The chains created by the cravings for sensations can be broken through more awareness, knowledge, positive willpower and Divine Grace.