EDITOR's NOTE
_________________
HOMA HEALING
_________________
HOMA FARMING
_________________
ECO NEWS
__________________
EVENTS
__________________
LEARING ABOUT
AYURVEDA WITH
DR. IRMA GARCIA
_________________
MESSAGES FROM SHREE VASANT
_________________
FROM ORION TRANSMISSIONS
_________________



RELATIONSHIPS
Let's do more self-study or Swadhyaya. We may ask whether the following sayings are true.
"Tell me who your friends are and I will tell you who you are."
Answer: Yes and No.
"Birds with the same feathers flock together."
Answer: Yes and No.
"Whoever snuggles up to a good tree, good shade shelters him."
Answer: Yes and No.
Yes - because you tend to imitate the behavior of the majority.
No - because you can be like a rock.
There are many types of relationships:
a) family
b) work
c) political
d) marital and extra-marital
e) love and sexual
f) harmonic and non-harmonic
g) etc.
Tell me how you relate to others and I will tell you how you relate to yourself.
Let's take a self-study:
Do you easily forgive others?
Do you understand others easily?
Do you easily listen to others?
Do you speak easily with others?
Do you think, speak, and express LOVE readily to others?
Do you easily accept others?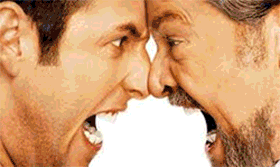 THE FIVEFOLD PATH
UNITES US.
Sometimes relationships are tests because the personalities (egos) are strong and nobody wants to give in when differences come to the surface. Differences are normal to a lesser or greater degree. This is natural. Man and woman are different from the point of view: anatomical, emotional, biochemical (hormonal), mental, psychological, etc.
Even if we carefully analyze the components (bodies or layers) of an individual of the same sex, from the same mother and biological father, we find many differences.
However, the Spiritual Scientists tell us:
1) We are equal in ESSENCE.
2) We are created in the image and likeness of the Creator (Father/ Mother).
3) Be perfect as your heavenly Father is perfect. (Matt. 5:48)
4) We must be righteous just as HE/SHE is. (I John 3:7)
There are relationships that are given by nature (mom, dad, brothers, sisters, other family members, etc.).
There are relationships that are given by circumstances (examples: your boss and peers at work, school classmates, neighborhood, etc.)
There are relationships that we choose such as: wife, husband, friends, etc.