EDITOR'S NOTE
_________________
HOMA HEALING
_________________
HOMA FARMING
_________________
ECO NEWS
__________________
EVENTS
__________________
HOMA HEALTH WITH PHARMACIST MONIKA KOCH
_________________
MESSAGES FROM SHREE VASANT
_________________
FROM ORION TRANSMISSIONS
_________________
ECONOMY
The economy is a subject that most people are concerned with, because many aspects of their lives are affected by its changes. What changes?
A) USA and European countries ("developed countries") are in an economic crisis.
B) Emerging countries (Brazil, Russia, India, China, South Africa, Mexico and Peru) are growing.
Why do these changes affect us?
Because we are interconnected and there is an economic
interdependence.
Some experts say that the dollar still has some value in several countries which are economically rising. However, other experts foresee a collapse on the world economy.
What can we do to meet the upcoming events?
Some people see these options:
A) If you have money, buy agricultural land with water sources. Select a place where you can grow all year round and that is far from coastal areas, volcanoes and seismic fault lines. We recommend it has: road access, electricity, or better yet, its own source of energy.
B) Become part of a self-sustaining community where life can continue regardless of what happens around.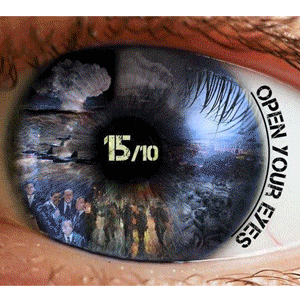 CAN WE OPEN OUR EYES
AND SEE?
The community should count with food and energy security.
The community members practice teamwork, sharing, barter and exchange of services. Here, there is no money involved.
C) No to worry because everything will be fine since the economic crisis will be repaired by giving more money to the bankers.
Others might think that:
D) That there is no economic crisis and that everything is OK for everyone.
E) There are enough resources for everyone but the distribution of wealth simply has to be modified.
F) The global community is like a living organism. It cannot grow without limits. Usually, there are some restrictions imposed by the species itself or by their surrounding nature.
G) Other theories
Regardless of these options, most people will agree that there is no balanced economy and this is not fair to all. And some people think this lack of control in the macro and micro economies is a reflection of the lack of control and impurities present in our minds. Many societies unwittingly promote the practice of pride, envy, lust, greed, anger (violence), etc.