EDITOR'S NOTE
_________________
HOMA HEALING
_________________
HOMA FARMING
_________________
ECO NEWS
__________________
EVENTS
__________________
HOMA HEALTH WITH PHARMACIST MONICA KOCH
_________________
MESSAGES FROM SHREE VASANT
_________________
FROM ORION TRANSMISSIONS
_________________
THE SOLUTION TO ADDICTONS = F.P.
This is more Swadhyaya (Self-study).
First, let's have a simple definition of addiction:
a tendency to engage in a conduct or acts which are linked to negative habits, which may impair our sense of wellbeing on the physical, emotional, mental, and so on level.
The most known Addictions are:
1) Smoking cigarettes, tobacco, etc. linked to nicotine (legal)
2) Alcohol (legal)
3) Marihuana, cocaine, heroin, crack, etc.. (illegal)
4) Some or perhaps many medicines (legal)
However, some experts include certain substances in common use every day such as: coffee, black tea, white sugar, soft drinks, refined foods, and junk food filled with: colorants, preservatives and other additives. Other authorities on the subject go beyond and include: the nymphomaniacs, kleptomaniacs, the internet, pornography and bigotry (religious, political, athletic, etc.), which promotes fighting.
Others add the 7 deadly sins: lust, gluttony, greed, etc.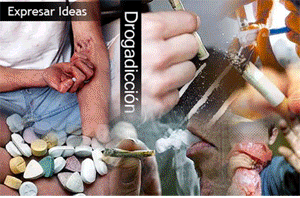 F.P.= The key to our liberation with a smile
Certain natural habits such as eating, sleeping, sex, work, etc. can increase in frequency and intensity to a negative point that leads to pathologies. Addiction does not hurt just the addict, but it also affects family members, friends and others in their environment, not only because there is a psycho-emotional bioenergetic connection, but sometimes there are lies, angers, violence, thefts, accidents, prostitution, suicides, etc. The Addiction affects the patient, the family and society indirectly. It's a global problem.
But, why are there so many addictions and diseases today? Some say that this simply happens because we are living /dying in a corrupted, toxic, synthetic, plastic, messy, unbalanced, robotic, unconscious and so on, polluted world. Imagine that we are playing on a land of swamp areas and thorns. How to avoid getting hurt or dirty?
Someone would say:
a) "You have to remove the swamps and the thorns in the world with more asphalt and concrete."