EDITOR's NOTE
________________
HOMA HEALINGS
________________
HOMA FARMING
________________
ECO NEWS
________________
EVENTS
________________
MESSAGES FROM SHREE VASANT
________________
FROM ORION TRANSMISSIONS
________________



EDUCATION
Good Education is the foundation of a healthy society.
Education begins at home.
However, today it is very rare to see parents fulfilling that duty for the labor situation and new social habits do not allow it very often.
Education continues at school.
However, for the reasons mentioned above, the load of work of the teacher has increased and he/she has to fill the gaps in the development of character and personality that were not filled at home.
Besides teaching the academic subjects, the school teacher usually must expand his/her role and become partially a father/mother for the students.
Usually, teacher's salaries are not as attractive as those seen in many other professions or activities.
However, the joy that can be generated in the heart of a Teacher (devoted to his/her role) is "immeasurable".
Yes, yes, yes, almost everything in our society is upside down.
It seems that our habits have changed so much, to the point that we are:
a) peeling the bananas, throwing away the fruits and preparing and eating the peals
b) cracking the peanuts and then throwing away the nuts and eating the shells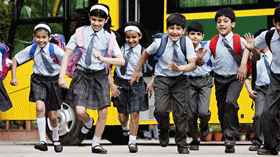 Good Education is the Foundation of a Healthy Society.
If you want to contribute to a conscious change in the habits of our society, one of the perfect places to start is in the school.
Stress and Pollution are causing a lot of psychosomatic diseases that are destroying everything as pathogenic viruses which multiply rapidly.
Children are not except from stress and pollution and their effects may be greater on them, because they are weak from the psycho-physical point of view.
However, by God's Grace,
there is an easy Solution:
"The Fivefold Path" (Agnihotra, Daan, Tapa, Karma and Swadhyaaya) can neutralize these viruses and repair the damage caused by them.
The Supplemental Educational Program (YYMM) is contained within the FP (Fivefold Path). This YYMM "Yoga, Yajnya, Mantra & Meditation" Program is a set of simple workshops for physical and mental training to be performed easily in the school environment.
We invite you to learn about it
and implement it.
You, teachers, who are already
serving your students with all
the love in your hearts and minds,
are ready to apply
the YYMM Program.