EDITOR's NOTE
______________
HOMA HEALINGS
______________
HOMA FARMING
______________
ECO NEWS
________________
EVENTS
______________
MESSAGES FROM SHREE VASANT
______________
FROM ORION TRANSMISSIONS
______________



WORLD PEACE
Having friends and enemies is something common to most people. You call a "friend" who supports you and "enemy" who is against you. It seems that we are at war or competing for many reasons such as: money, love, sex, fame, food, drugs, water, religious beliefs, power, wealth, land, politics, ideological principles, etc.
In spite of all religious teachings, philosophies, technological advancement, education, the wars continue. Why?
According to the Spiritual Scientists, Saints and Sages, the causes are: blindness, deafness and ignorance of the Truth. But what is the Truth or Truths?
1) We are Energy - Vibration
2) The same spark or spiritual essence is in everyone
3) We are "Immortals"
"Nothing is created or
destroyed, only
transformed."


According to this formula,
Resting Energy = Mass × (speed of light) 2
It also indicates the quantitative relation between mass and energy in any process in which one becomes the other, as in a nuclear explosion.
So it can be taken as the energy released when a certain amount of mass is disintegrated, or the absorbed energy to create the same amount of mass. In both cases, the energy (released or absorbed) is equal to the mass
(destroyed or created)
multiplied by the square of the speed of light.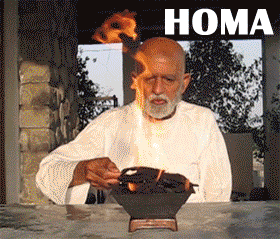 The Fivefold Path contributes to the
Peace of the individual.
4) Different materials "are intrinsically the same" but vary in frequency, intensity, density, etc.
5) We are ONE
As we purify ourselves and we tune to the original frequency or connect to the primary source, Understanding and
Unconditional Love grows.
Is it possible to live in a world without wars and enemies?
No and yes.
No, because the simple fact is that life is a consequence of our desires, searches and conflict.
Yes, because we have a creative power and we can realize our thoughts, emotions and sublime actions.
The Fivefold Path (FP) increases our Unconditional Love towards all of Nature (plants, animals, humans, etc.).
The practice of Agnihotra is a conscious sharing of life energy with everything around us. Agnihotra is an expression of Brotherhood, Friendship, Peace and Love on all planes.
The practice of the FP makes us Instruments of Peace.
How beautiful is it to be part of an Army of Soldiers of Light with Real Firearms that contribute to Life and Peace.
No one loses and everyone wins. No one dies and everyone lives.
"The Peace of the Individual is the Peace of the World."
How beautiful! OM SHREE OM