EDITOR's NOTE
_________________
HOMA HEALINGS
_________________
HOMA FARMING
_________________
ECO NEWS
_________________
EVENTS
_________________
MESSAGES FROM SHREE VASANT
_________________
FROM ORION TRANSMISSIONS
_________________



SIMPLE LIFE
More Swadhyaaya (self-study). Have you noticed how many things do you usually need to be comfortable, satisfied and happy? Just look around you. Today, we have a more comfortable life than 20 or 50 years ago. Maybe, we have an apartment, or house, or building, etc., with:
furniture (bedroom, living room, kitchen, etc.), electro domestic appliances (stove, refrigerator, blender, microwave, juicer, etc.), televisions, telephones, computers, Internet devices (routers, boosters, antennas , etc.), clothing (dresses, pants, skirts, underwear, shirts, suits, gloves, socks, ties, etc.), shoes, belts, cosmetics, perfumes, jewelry, hair dryer, ornaments, curtains, porcelain articles / china ware, cookware, eating utensils, books, books, VHS tapes, CDs, DVDs, audio tapes (cassettes), pictures on the wall, bathroom accessories (nail clippers, scissors, nail files, combs, toothpaste, toothbrushes, etc.), medicine cabinet (pills, injections, creams, ointments, syrups, etc.), cell phones, magazines, newspapers, etc.
Yes, we are immersed in an EXCESSIVE consumerism.
Incidentally, the major Transnational Corporations use psychologists and other professionals to create artificial needs through advertising strategies to sell their products or services.
"Often we see how the fish may die by the mouth" (by its very own mouth or other's).
Many times, we seem to be trapped in a cage.
Some are in an iron cage and others are in a golden cage, but still they are caged. Why?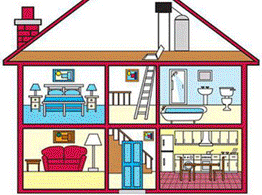 WHAT MAKES YOU HAPPY?
When the senses and the mind are not controlled, often they act as tyrants. They tend to pamper your little personality or ego and enslave the soul with attachments or addictions.
The Fivefold Path (Agnihotra, Daan, Tapa, Karma and Swadhyaaya) can help us to escape the physical and mental prison and cut the chains of the mundane attachments.
The Fivefold Path:
- Clears the intellect
- Cleanses the mind of impurities
- Improves your judgment
- Tames your senses
- Strengthens the individual will and tune it up with the Divine Will.
Unconsciousness, ignorance, falsehood and unreality catch us. The practice of the Fivefold Path leads us to Consciousness, Reality, Truth and Freedom.
The Fivefold Path fills us up with Unconditional Love, and this Love gives us Peace and Freedom.
OM PEACE OM
OM SHANTI OM
OM TRUTH OM OM SATYA OM

Note: You can be rich or poor and still be a slave. And yes, yes, yes, if the mind and the senses are at the service of the soul, you can be Free independently of your economics (poor or rich).